Menu Designing
Menu Designing
Designing your restaurant menu is easier than ever with us. we say no to ready-made templates, because of not being able to change everything alone or to get exactly what you are looking for. Our Graphic designers will give you a free consultation for setting up your menu, your food names, your prices, and your brand.
Menus are one of the most important key elements of marketing because of informing people of your services, foods, dishes, how they are prepared and how they will be served on the table.
Some say that a restaurant can offer the best food and service, but how the customer first gets in is the design, concept, elements, and colors that attract their eyes and mind.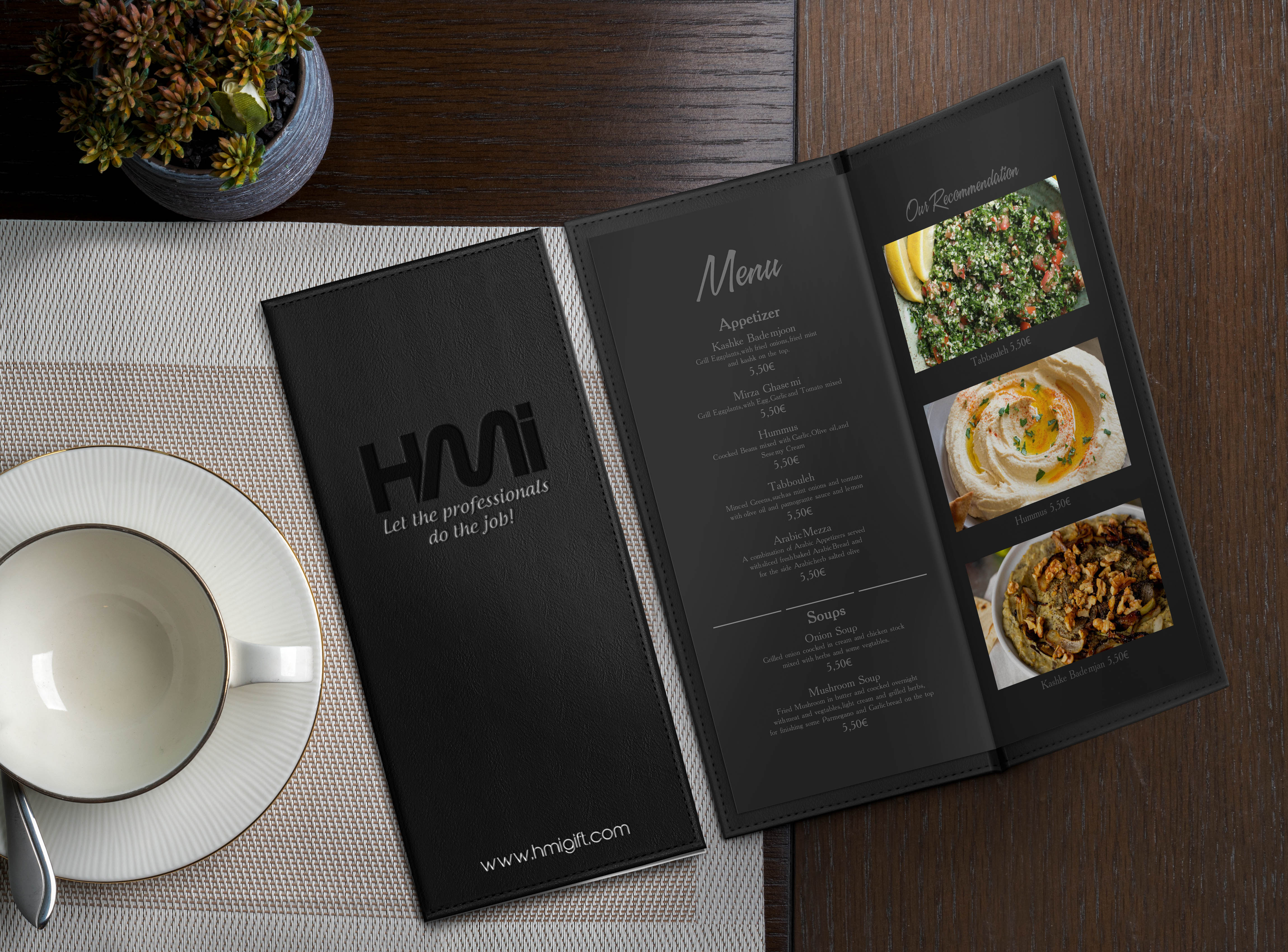 Experience says that Your Restaurant menu must always be changing while good things will not stay the same and how they are and they get old very fast. Due to the people's taste, season, weather and mode menus can be changed to increase the attention of people.
Redesigning, adding seasonal items, seasonal drinks, replacing some of not selling foods with new items, changing in colors and etc. will always help your customers to keep you in mind. Changing and updating your restaurant menu can also help you to attract and win new customers and crowds. It is very important to tell and notify your customers somehow that you have done changes in your menu. In addition, Don't forget to advertise your new seasonal specials digitally or on social media for your fans and customers.
Printing doesn't change the story for you and your clients, its true and proven to us many years ago. As our Experience, we have to say Colors, Elements, Icons, Graphics, Artworks, Pictures, Titles, and Food names are more important than the printing which means the design of your menu & advertising has always bigger responsibility for your brand than the printing.
A nicely designed and well-planned menu can also be printed on a simple thick paper but an unprofessional and unorganized menu and advertising will work as negative as an enemy for your business.
We will design your restaurant menu based on your idea and the style of your brand and name in a way that people more likely will choose a similar concept to eat, drink, and enjoy their time. We have designed menus over thousands of different models and styles in different countries and cities in the world, but now we created a concept of Gastronomy Needs for all of the restaurant needs and requirements from designing to printing, advertising, and publishing and we always try our best to be the customers one and only stop for their needs.
We will start with market Analysis in your city and zone to help you better and more before designing your restaurant menu, our Analysis will help us to know what restaurants are mostly searched and being followed in social media in your city. The designing of a menu can be done in different ways with different methods depending on your requirement and order.
We will help you to find the best solution that suits and effect your business more and will lead you to a better future. I am the biggest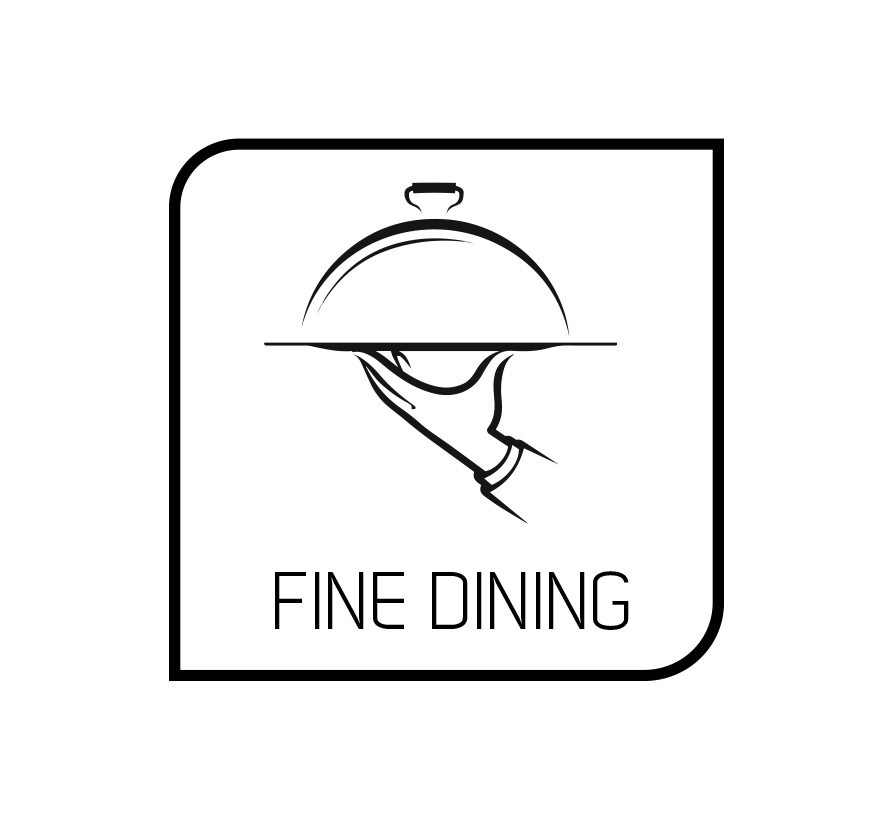 Fine Dining
Fine Dining Restaurants usually use a high class and luxury menu with very simple icons and colors. Most of the time fine Dining restaurant menus are done in a special format to give the massage of specialty and showing the attention to the small details and design. Fine Dining restaurants usually use nice light music with nice and special lightning and interior, which the style of the food will lead the restaurant to a specific and certain point. For example, Seafood Fine dining Restaurants usually use Aquarium for giving life to the atmosphere and nice feeling.
We will design your Fine dining restaurant menu, for printing and digitally presentation and advertisement. The result of our design will be approved with our client and after finishing all the revisions we will take you to the printing sector to help you to choose the best printing and finishing method for your items and menus. We are also able to redesign your old designs or creating similar designs to your previous menu design.
It doesn't stop at only menu designing, instead it starts all with menu designing. A nice and professional photo taken from your foods will show the quality of the concept, which it will improve the result in return. A Fine Dining restaurant needs better advertising and marketing materials in quality and finishing, and better quality means always more professional, certified, and or well-trained staff, however, a better finishing needs better and newest printing technology.
FAST FOOD
As a Fast-food, you need always a fresh and new concept for advertising, menu designing, flyer designing, and takeaway package designing and printing. We are able to help you to create your own icons, signs, advertising character and logo fo increase the quality of your Fast food.
Fast foods are usually famous because of Fast service and unfortunately for unhealthy foods and beverages, which at this certain point design and advertising under marketing material will show up and help a lot in getting success in this field.
For example, KFC - International brand with a very cute and nice logo, perfect service and quality food, and smart advertising as the digital and real world. These points are the most key elements of getting successful nowadays for Fast food restaurants.
It's nice to know that the most visited and best seller restaurants in the USA are Fast foods. The fast-food industry had its beginning in the 20th century and it's growing every day more all over the world. IF you are based in the USA, Europe, Middle East, Asia, or any corner of the world your business always needs a professional graphic designer to create the best for growing your business. We will provide you all the services and support over the internet.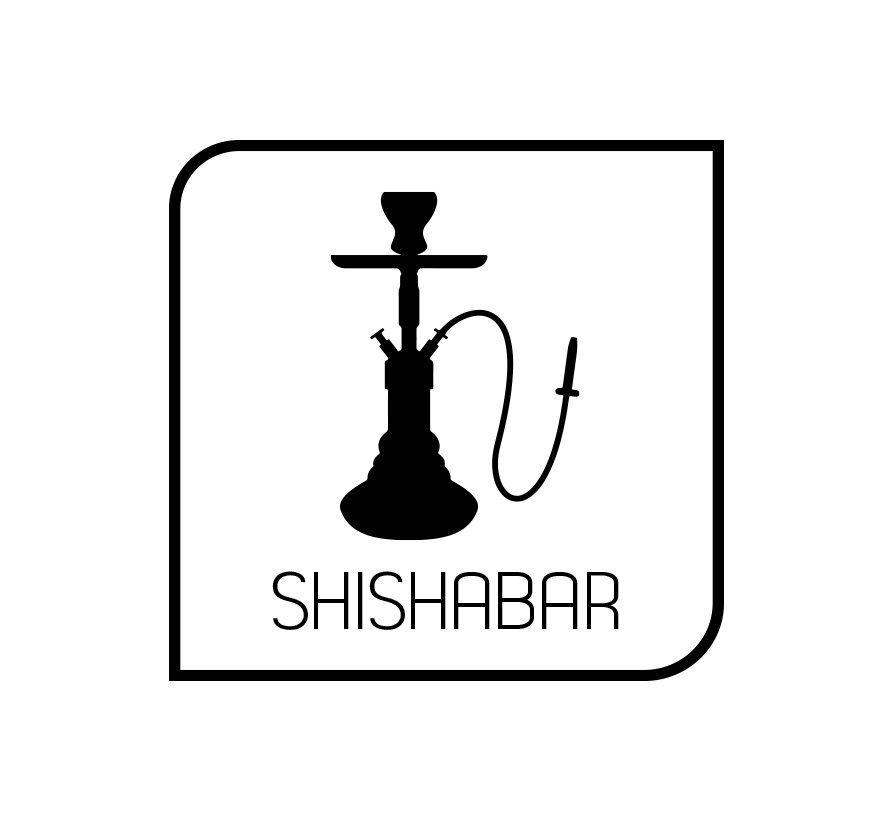 SHISHA BAR
One of the most visited types of businesses in the last decade is Shisha bars (Hooka bars). Shisha bars are where people usually share their Shisha/Hooka and drink or eat some snacks or foods and enjoy their time. Shisha bars got famous internationally since the beginning of 2000 and it used to be one of the only places where young people met and spend their weekends in the middle east. However, now it is one of the most visited places and businesses in the world and got very famous and popular in the last few years. Nowadays Shisha bars are serving food and beverages also and combining them in a menu or designing a concept for it might be a little tricky, but we are there for you and ready to help you out.
From Menu designing, up to Website designing, and designing marketing materials for a brand or name, we will stand always with you to support and help you. We will be your only marketing partner for all of the elements or advertising materials.
The other type of Bars, such as Sports bars, Game bars, Karaoke bars, Old chilling bars are the other subcategories of shisha bars, and all of them are under a category of BAR'S.
Sports bars, football games, tournaments, leagues, need encouragement, and fans, however, fans need support and support means thinking of your customer or fans. Surprise your customer and let them inspire with encouragement materials branded and printed with your name or logo to show the sympathy and loyalty which it creates you a better future and successful business end of the line.
Game bars, Yes, your customers are there to play and enjoy their time of being there, surprise them with different prizes and gifts branded with your name, create and start some local tournaments to increase the chance of being in eyes, and to stay in people mind.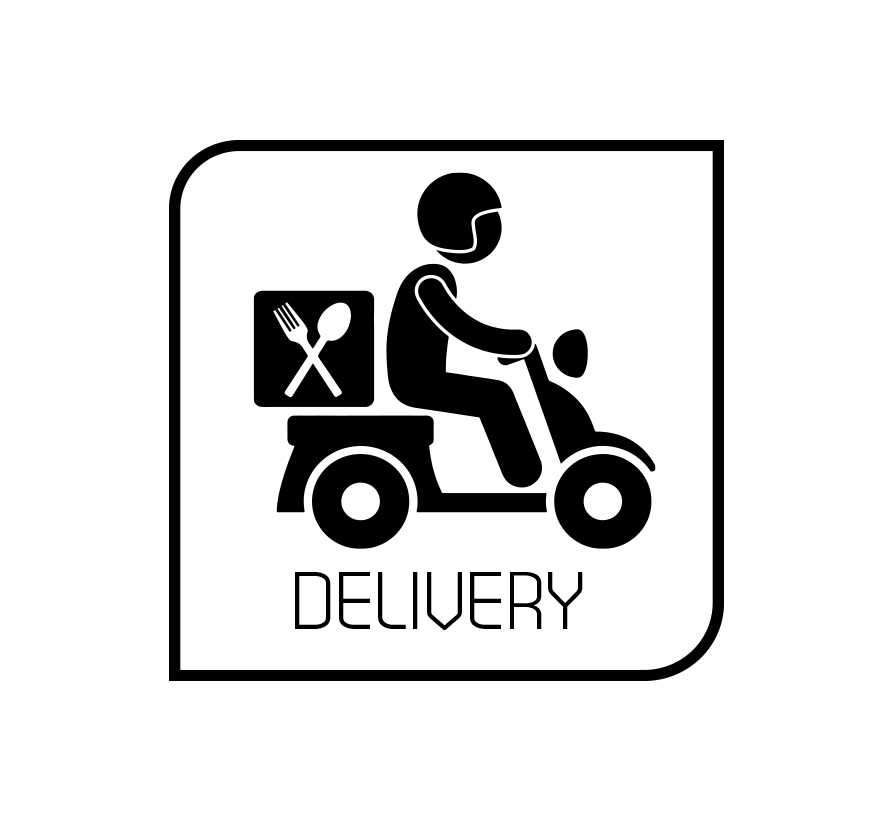 DELIVERY
As a Fast-food, Fine Dining, Shisha bars, or Coffee shops, you might or it's better to say will need always a delivery service for completing and shaping your business. For not being only local and get more customers you might need better packaging, better-looking flyers, or menus that will keep you always in the mind of your customer.
If it's an online ordering system, take away menu and flyers or driver uniform, branding, and advertising on the car, you will need a professional graphic designer for gathering and setting up all of your marketing materials. It has always affected our customer's income, our customer's feedback, their feedbacks, their appearance, and how they look in the market. Yes, Marketing is the most important key for every business. By advertising and promoting on your delivery cars or bikes, people will see you more and keep you for a longer time in mind which will also affect your orders, your income, and off course the future in your business.
What shapes of packaging, what color for packaging, what color for the uniform, what to print on the uniform, what to promote to the customers, what material of packaging and uniform, do I need a business card in food packages, what else do I need for a takeaway order. . .
And hundreds of questions which you might be looking for the answers but unfortunately didn't find an answer for that.
We try to set everything up in the way that you might want and don't know how to get it. We help you to create the best which fits your marketing budget and provide you support to take you to the next level of business.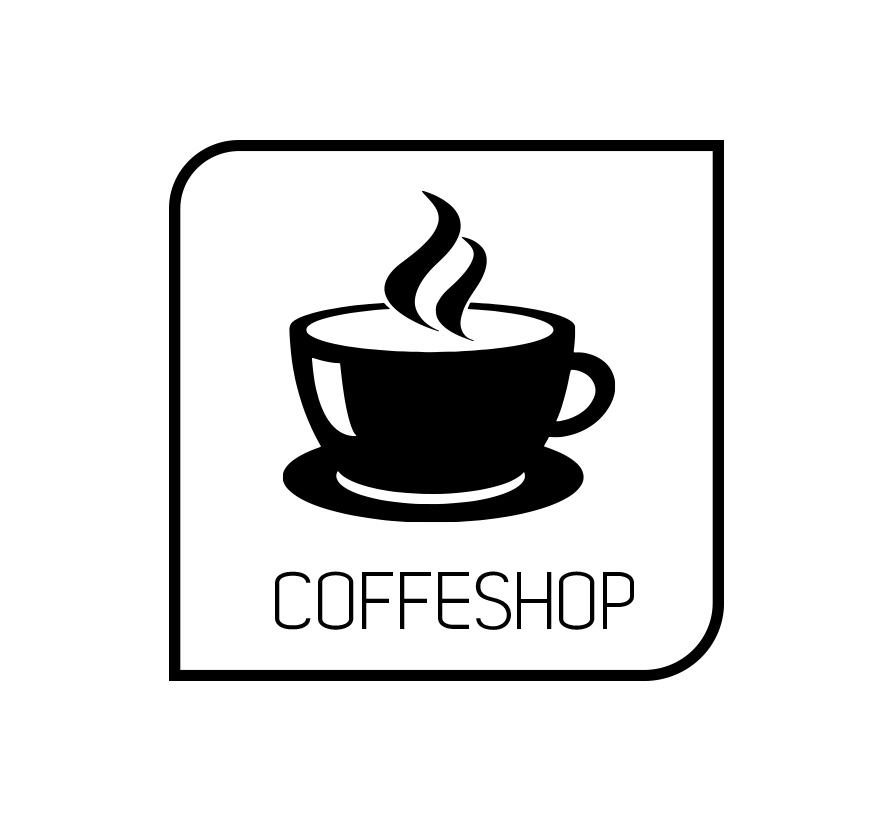 COFFE SHOP
By hearing the name of the coffee shop, you will directly think about relaxing, meeting, chilling, visiting a friend or relatives and etc. This means having a wonderful and well-designed place will help you to increase the chance of selling, getting famous, and succeed in your field. Selling and getting famous needs professional and great marketing, with a very nice, simple and colorful menu, billing book, presentation signs, light signage, and so on. Having professional lightning in your coffee shop will give your customers a great feeling of being aware of their mood and comfortability.
Some say, Cooking and providing service in a coffee shop doesn't take you to the achievement anymore, instead of being clever, smart, and offering special light and well-done snacks or beverages will do the job . However, without a great presentation, you will not be able to increase the chance of a better future for your business.
Opening a coffee shop can be extremely profitable and great for you in the future if you do it in the right way. Starting your own new brand coffeeshop? don't be afraid, we are here to help you and guide you on how to design every single marketing and advertising material from sketch, thoughts, and ideas. Our experienced and professional expertise will be glad to help you by researching the market and doing some analysis under the same topic that you are planning to do business.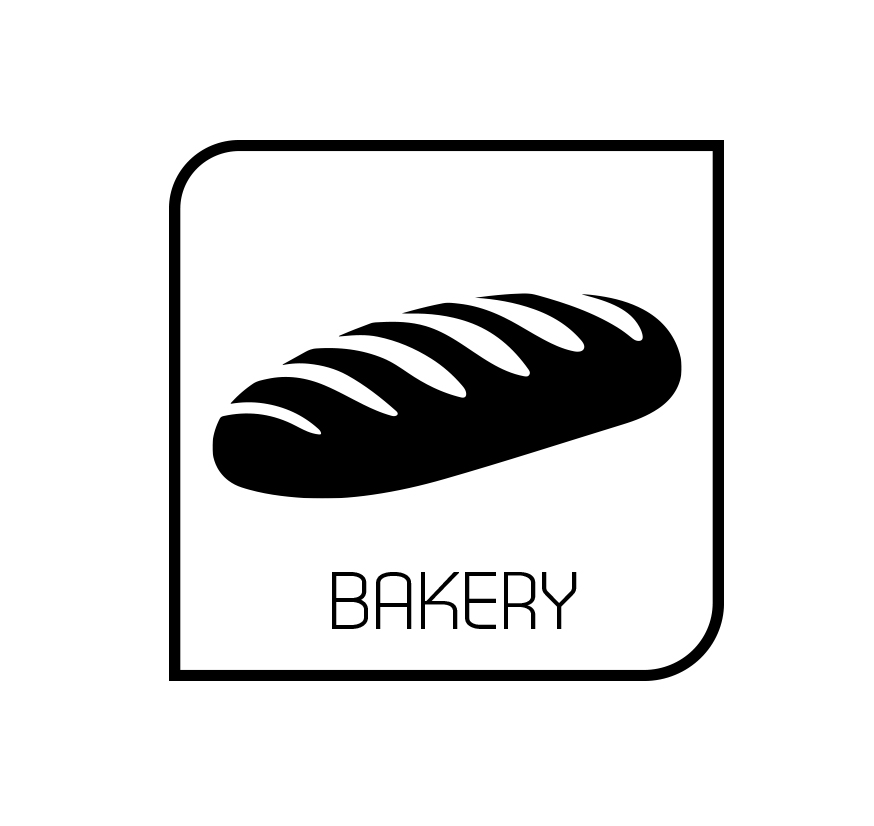 BAKERY
Who doesn't like to start the day with a coffee and fresh-baked bread in hand? Bakery is the most visited place in early mornings in at least Europe, however many people don't plan to go or visit a bakery but the smell of baking fresh bread, croissant, cookie, a freshly blended juice or fresh-made coffee will attract every single person to the shop and be smart, professional and make the ordering easier for your customers by having a nice and well-designed presentation such as price boards and price signs, uniforms, Menus, and such advertising materials. Having nice and well-planned advertising and marketing materials will lead you always to better sales and income. Imagine you are visiting a Bakery in the middle of the city, in a very busy street next to the train station and tens of people are standing next to you to order their breakfast, and you are standing there for the first time, looking at the walls, at the door, at the staff, and asking your self what shall I order, what shall I eat, or even what shall I drink for the beginning of the day. however, if you will be able to see the list of the sandwiches, snacks, coffees, drinks, or even wouldn't be better if you see a recommendation designed with a picture and explaining about how to start your day, or what is healthy for your body to eat or drink in the morning?
It might sound amazing, but it needs a plan, it needs experience, it needs a nice and perfect presentation and photography of the food, a nice biography and few words with your customer to show them how important are they for you and how much you care for their body and soul. Giving and showing loyalty to your customers will always give a nice profit and lead you to success in return.
-Price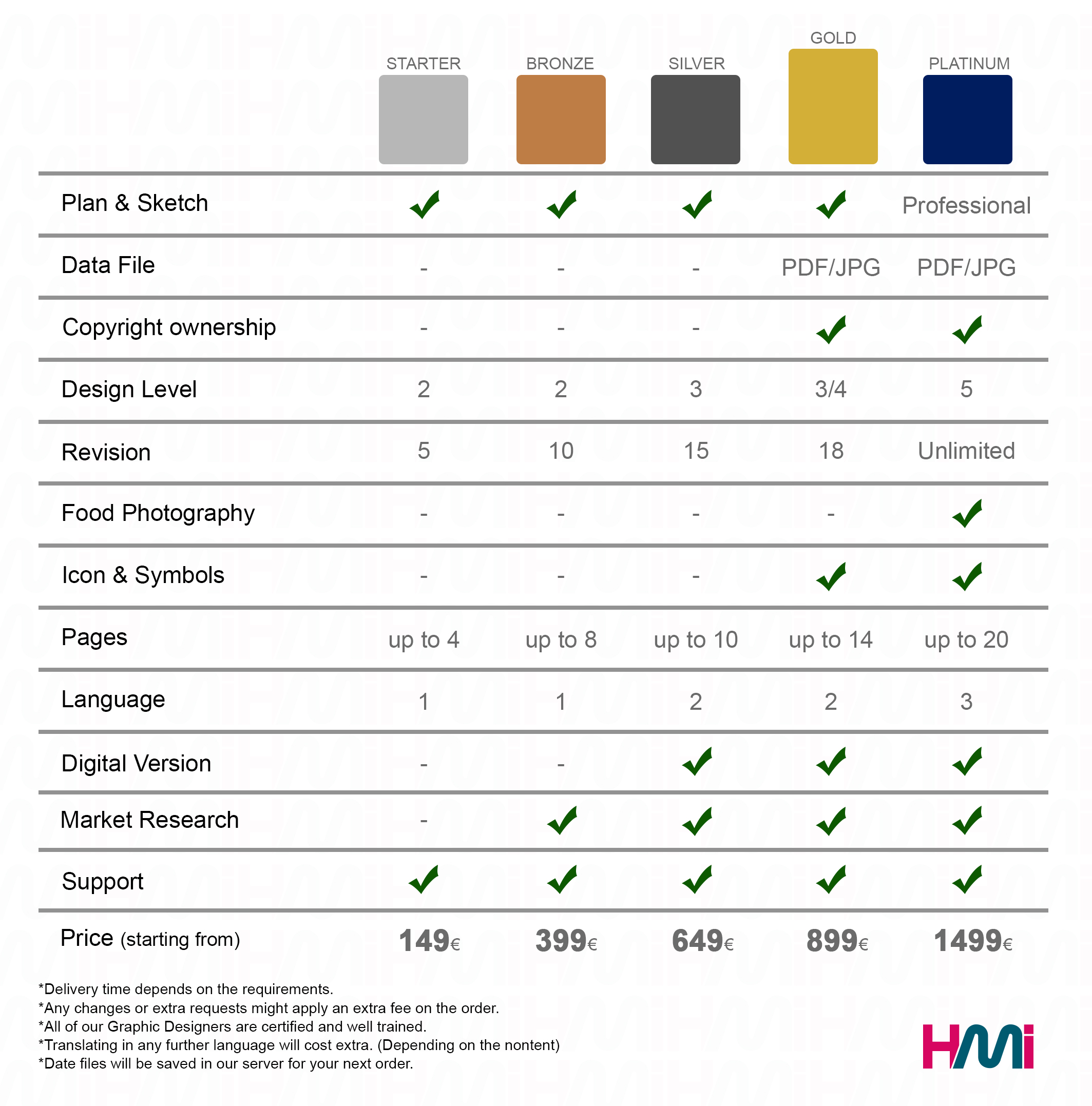 Spending a few hundreds of your investment, might not affect you today but it will affect your tomorrow!
Saving a few hundred or thousands as marketing and advertising cost will not make you rich, however, investing in the correct way and having a planned marketing and advertising move will help you to build a better future for your business. We are based in Bochum, Germany but we will support you over the internet if you are far away and we will take care of your business to increase the chance of your sales and success.
We charge our customers on real hours and on our effort that we show to your order and we make sure that you get the best for what you are paying. If you are looking for some professional marketing company in Bochum, to request any type of marketing materials or advertising services, IT services, Social Media Marketing, Printing products, Promotional items, Branding, advertising, content creator, professional photography, professional graphic designer then you are in the right place!
We will be happy to serve you and win you as our customer, kindly contact us or click on the link below to enter contact us page.
Contact us
Menu Designing in Bochum - Menu Designing in Düsseldorf - Menu Designing in Dortmund - Menu Designing in Essen - Menu Designing in Hamburg - Menu Designing in frankfurt - Restaurant menu designing - Professional Menu designing - Professional Menu creator - Printing restaurant Menu - Finishing Gastroomie Menu - Designing Gastronomie Menu - Ready-made Menu Designing - Graphic designer in Bochum - Graphic designer in düsseldorf - Graphic Designer in Köln - Graphic designer in Essen - Graphic Designer in Münster - Menu Photography - Food photography - Leather Menu - Restaurant Menu - Coffe shop Menu - bar Menu - Sports bar menu - Fine dining Menu - Fine dining restaurant menu - Professional graphic designer in Bochum - Professional Graphic designer in Düsseldorf - Professional Graphic designer in Köln - Professional Graphic designer in Frankfurt - Advertising company in Bochum - Advertising company Germany - Best advertising company in Germany - Advertising company in Europe - Best advertising company in Düsseldorf - Marketing materials - Marketing and advertising products in Bochum - Marketing and advertising services - Marketing and advertising products in Düsseldorf - IT services in Bochum - Web designing in Bochum - Online-Shop designer in Bochum - Website creator in Bochum - Web designer in Düsseldorf - Professional Web designer in Dortmund - Professional SEO in Germany - Webdesign in Europe - Prinitng products - Printing services in Bochum - Printing Services in Düsseldorf - Printing Services in Witten - Prinitng services in Köln - Professional large format printing services - expres printing services - Business card printing - special business card printing in Germany - Social Media management in Bochum - Social Media Marketing in Bochum - Social media professionalist - Internet marketing - Logo Designer - Priniting Copmany