Business Card Designing
Business Card Designing
Print your business card with the best quality and over 1000 different materials and finishings with the best prices online with us!
We are experienced and professional in designing and printing Business cards online. Our store is located in Bochum and we are waiting for your visit to help you and provide you a free consultation.

Over 30 years of experience in the advertising and printing field, is helping us to provide the best printing and designing services to our customers.
We are proud to say that over +1000 different materials, finishings, folding, formats, sizes, and printing methods are available with us in printing Business cards. From basic Pakcgaes to Premium and VIP versions of business cards are available at HMi.
HMi offers a huge variety of business cards with different papers, materials, finishings. Our vision is to present the business card designing on this page in the simplest ways for our clients and customers so they can get a very good understanding of their final design and layout before ordering their business card printing. Many websites are offering free online designing tools for your business card, however, we as HMi team, think that nothing can take place of human power jobs and creativity. We design your business card based on your request and idea, we make unlimited revisions till we get your 100% satisfaction on your layout and then we start the printing process. Every single step will be checked and confirmed with you before processing and going to the next step. Our special customer service, our five-star support show to the customers our loyalty and quality of thinking and business.
HMi team will support you day and night depending on your order, with using no robots or automatic reply system, which costly it will cost us more and our margin will be on minimum base, but you as our client and customer will get full attention and support from our team.
This process needs a lot of planning and preparation for our customers and clients. Designing your Business card can be done with different prices and different services, which you can see some of our prices down below for your information.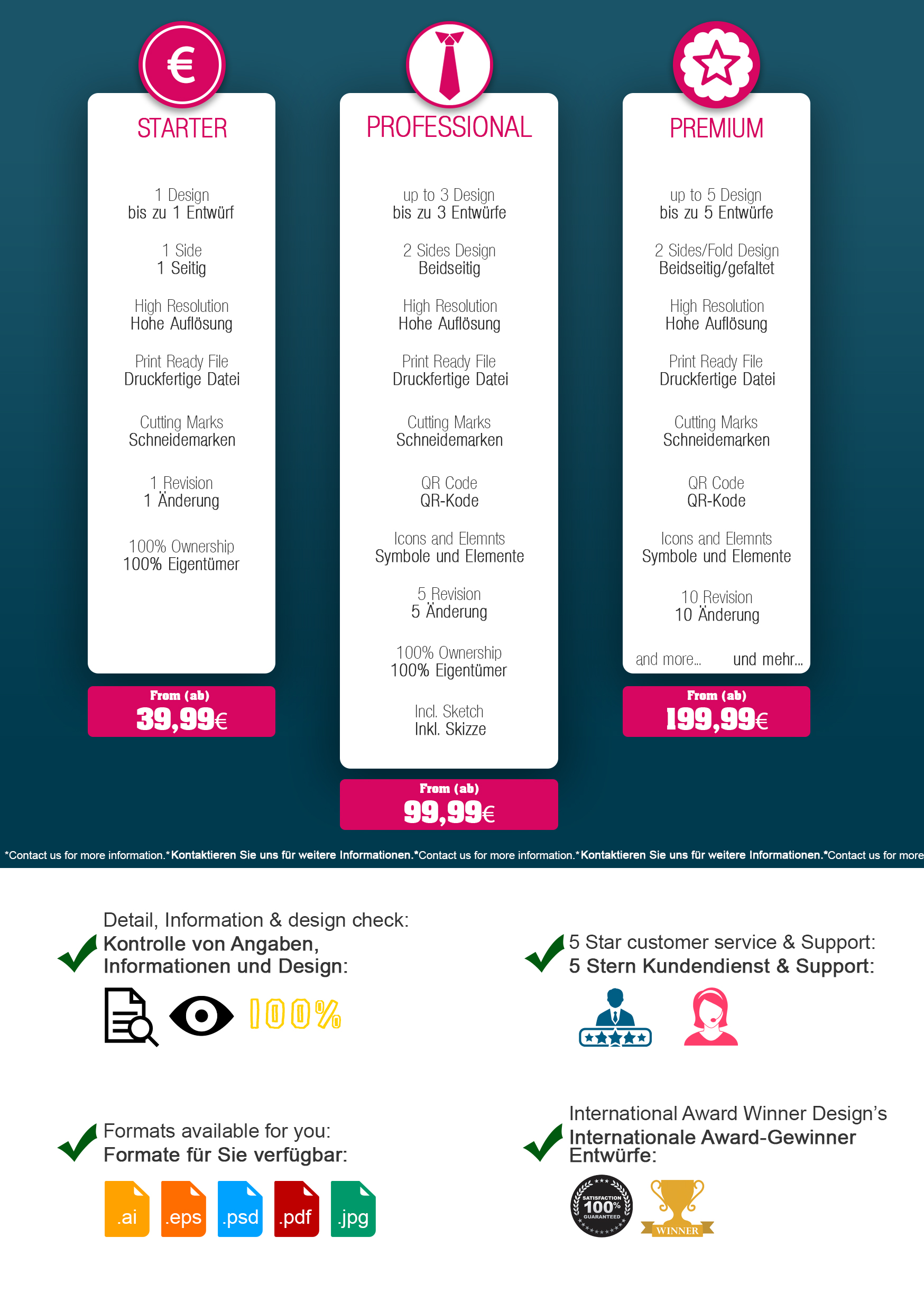 3 packages are available for Business card Designing which we called them: Starter - Professional - Premium packages.
The starter package is for smaller businesses or companies who want to start their business and looking for some new concepts or basic designs.
Professional is for mid-range businesses and brands who want to be more in eye and planning for a better future in business.
Premium Package, is our best and most professional package for business card designing and we will provide the best support and 10 revisions for the design package.
Designing Business cards in Germany, Designing Business cards online, and printing them is what we are professional at and we will be happy to cooperate with companies and brands for better deals.
After Designing and finalizing the design of the business card, Our customer will receive an email or message (base on request) to check all the information and details before the printing or saving the layout and with customer confirmation, the printing process will take place.
HMi Team also provides great 5-star customer service and support for answering your questions or taking care of your requirements.

We also provide some additional benefits to our packages on request, benefits such as:
Express Turnaround and Delivery time
2 to 4 days of project delivery
Money-Back Guarantee
100% Satisfaction Guarantee
Ownership and copyright license
1 Person design / 25 Person Designs / Unlimited person designs *For bigger companies*
Access to Approved designs online for changing staff details
Special prices for printing.

If you are looking for a professional graphic designer to design your business card professionally and printing it, have a look at our Business packages which are mostly made for businesses, restaurants, fashion shows, exhibitions, real states travel agencies and etc.
Our Business packages are designed to offer a better deal of designing and printing, both at the same time at a better price. This will help you to save a certain amount if you're advertising and marketing budget is limited.
However, the combination of design and printing does not include all the points or all the benefits mentioned in this page. So please contact us in order to get more information or Enter the Business Packages page for more information. Benefits such as revisions or receiving data files and more might not be included but instead, printing and shipping will be included the package for example.


Let's answer some of most frequent questions asked by our customers in order to help you to save time,
Why Business card? Why do I need a Business card?
Face to face meeting, or presenting your self to a client or customer, after finishing your meeting or presenting your company, name, brand, or either your self, you might need a small object with your contact information to provide to the people for not getting forget. This small Object might be a business card or for some a gift to be remembered. Business cards can be designed and printed on your budget and request and it can cost you as low as 0,01 € or less depending on your request.
What shall I Write on my Business card?
Writing and giving information to your customers can be with different points and details. Usually, on business cards, you can find a business name, a certain logo, contact number, fax number, mail, and a website. The information could be more complete with a QR code for easy access to your website or such as details.
Shall I have a 1 side designed and printed Business card or both sides designed and printed?
Depending on our customer requirement we will design the business card accordingly, However we always recommend both side business cards more than one side. A both-side Business card will cost in most of the time 20% more than 1 side.
What if I designed my business card with HMi and needed the same design to print again?
All of our customers Data files and designs will be saved safely in our database and server for the next order, and in this way ordering cost might be cheaper for the next order.
Why shall I order more business cards while ordering? (Bigger quantity)
Depending on the customer's order and inquiry, Printing will take place. However, fixing and setting up costs will be 70-80% of smaller orders and with increasing the quantity the printing cost of each copy will accordingly decrease and this will make us to offer and provide better deals and prices with bigger quantity orders.
What makes my Business card looks better and more professional?
Simplicity. Yes, keep it simple, with less detail, try to keep your business card as simple as possible. Nice and fine font for the details and readable information are the next points to check and be aware of.

Business card Printing online - Business card designing online - Professional Business card designing online - Professional Business card printing online - Professional Business card designing and printing online - Business card printing - Business card printing in Bochum - Business card printing in Berlin - Business card printing in Frankfurt - Business card printing in Dortmund - Business card printing in Cologne - Business card printing in Dusseldorf - Business card printing in Düsseldorf - Business card printing in Essen - Business card printing in Germany - Express printing - Business card with Express printing and Express delivery - Perfect Business card designing in Bochum - Professional Printing products in Bochum - Professional advertising company in Bochum - Amazing and professional Business card in Düsseldorf - Professional Business card design and print with best prices included free shipping - Business card ordering in Bochum for printing and designing - Online Graphic designer - Order Printing products online now - Best quality of Business card printing and designing - Business card in Frankfurt printing - Business card in Köln designing and printing - Create a Business card as unique as you - Premium Business cards printing - VIP Business card designing and printing - best quality Business card printing and free delivery - Custom Business card design - Best Business card finishing with best prices - Custom made business card designs free - Make your own Business card and design it online today with HMi - Your marketing partner in Bochum - You advertising agancy in Germany - Advertise professionally and win new customers - Marketing elements and products - Offset Printing Business cards - Digital Printing Business card - Personalize Business card design - over 1000 different paper types and finishings - Professional business card for restauranrt - Professional Business card for Beaty Saloons - Professional Business cards for Spa's - Professional Business cards for clubs - Professional Business cards for Bars - Professional Business cards for Companies and agancies - Profesional Business cards for Travel agancies - Best quality business card s with best prices - 30 years experience in Advertising - 30 years experience in promotional gift items - Your only stop for marketing and printing products - HMi Germany - HMi Bochum - HMi Gift - HMi GmbH