HMi copyshop | HMi Copycenter | printing services | Copyshop in Bochum

Our Services for you:
• Colour Printout & Copy
• B/W Printout & Copy
• Large Format Printing
• Lamination
• Scanning
• Spiral Binding
• Thesis Binding
• Posters
• Banners
• Visiting Cards
• Stamp
• Business Card
• Flyers
• Catalogs (Catalogue)
• Brochures
• Roll-Up's
• Textile & Tshirt Printing
• Passport Photos
• Tags
• Stickers
• Mug Printing
• Shopping Bag printing
• Shop Signs
• Window Stickers
& more...

Other services:
• Vinyl
• Window Stickers (indoor and outdoor)
• Bill book (Invoice books, Invoice system)
• Lightboard (Lighting signs for outdoor and indoor)
• Calendar (All sizes, Table Calendars, Wall Calendars)
• Customer Stands (Different sizes and materials)
• Letter Head
• Invitation Card
• Visiting Card
• Wedding Card
• Premium Business cards (more than 100 different materials and finishings)
• Envelopes
• Picture Stamps
• UV and special Stamps
• Packing and Printing on packages
and more...

HMi Copycenter ( Copy Center / Printing Point / Print Shop ) is located in Bochum, Markstraße 122, 44803.
Our store ( HMi Copycenter ) is open 6 days a week and our sales team will be happy to serve your visit and give you a free consultation. All of our printing services are done in-house for you and our Printing/Production team are well experienced and trained to deliver your needs on time and with perfect quality and finishing.
one of our key elements is to increase our services to meet our customer needs in a better way every day, as we expand and develop our business we always make sure to provide the best customer services and care to our loyal customers and partners.
In the following picture, some of our prices are shown, which you can contact us easily for better prices or special deals for bigger orders/jobs.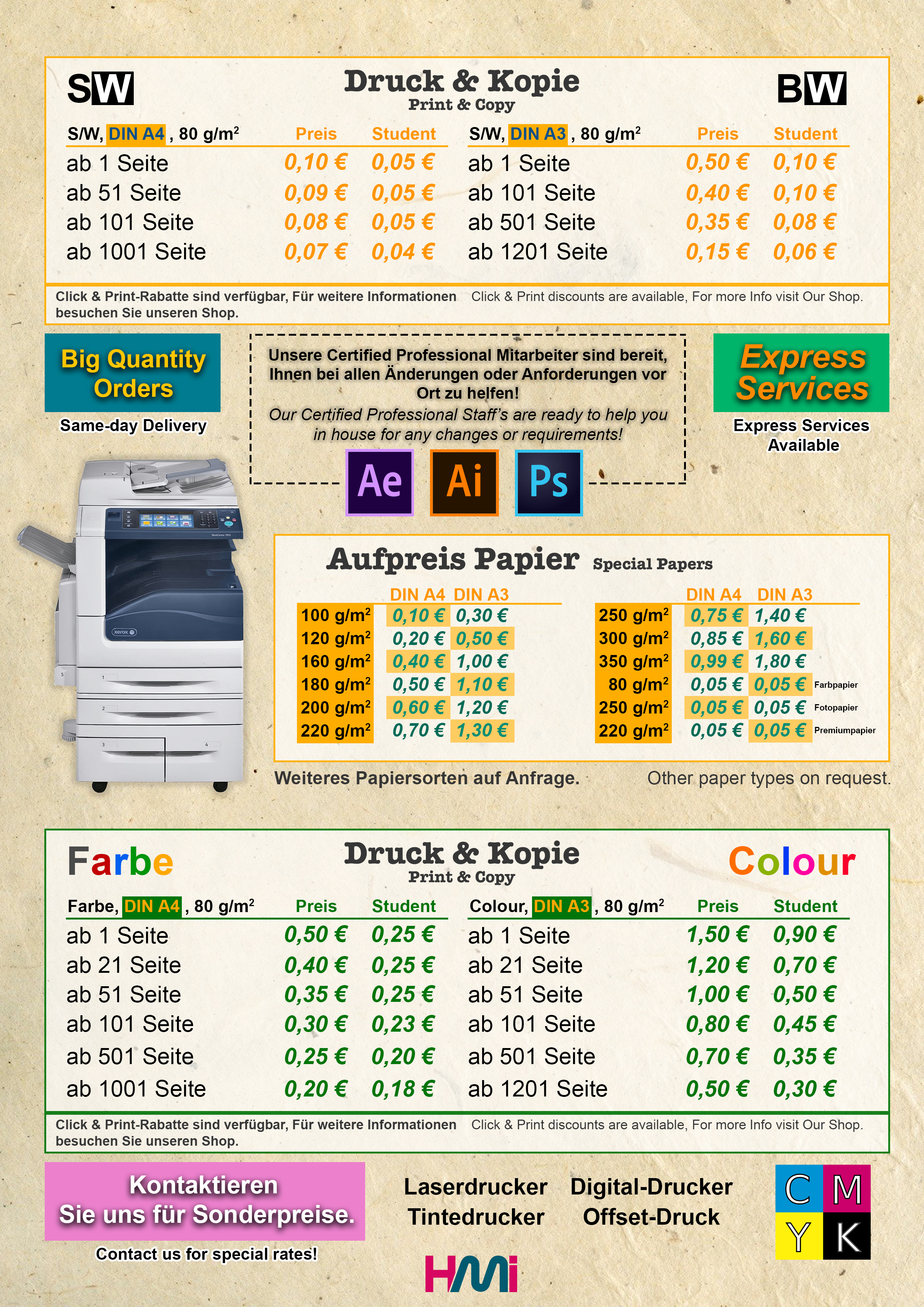 *Our HMi team, does Designing, Redesigning and changes in your data files or documents per your request.
Professional certified graphic designers are always in house in order to help you with your needs and requirements.

Same day delivery, Express services, 1 one night printing are also available with us, as our production and printing facility is in house and/or made by our partners with and additional fee depending on the order or finishings requirements.
We are proud to say that we do offset printing, and large quantities orders on request with a very short delivery time, please feel free to call us or contact our sales team.
Kindly send us email to: Copycenter@hmigift.com
LARGE FORMAT PRINTING is now AVAILABLE in HMi Copyshop (Our store). Same day and Express services are also available
*For more information about large format printing, click on the picture above.*
Now Available...!
Pass Photography available in our store, click on the button below to get more information.
Check our other services such as modeling photography and social media videos-picture services!!

About HMi Copycenter,
Few words to present our self.

HMi Copycenter is a part of HMi team and located in Bochum, Germany in a student base a few minutes away from the University of Bochum and near to the city center.
From small job orders up to bigger job orders are welcome to our store as our manpower and production power can support and deliver bigger quantities on time.
When thinking of printing, binding, scanning, laminating, cutting, sticking, presenting, folding, engraving or such services come to mind, HMi Copycenter is the right place for you. As we are located in the student zone of Bochum and few minutes away from RUHR UNI Bochum, we provide special rates and prices for students. We do Bachelor thesis, Master thesis and such services to make sure that students will get all of their needs by us, and we will be their one-stop for their printing shop for them. We always care about our customers and we want them to be happy with our prices and services, that's why in some cases we do provide special fares to our customers depending on their needs and their requirements.
We will be happy to help you with your changes in documents, document sizes, open data files, pictures, graphic design tasks or requirements and such services with an additional fee depending on the task.
We provide some extra services for our customers and visitors such as Writing CVs (From a to z and incl. design), Writing letters, Translating of documents ( Official & Unofficial ), Writing contracts, Creating Invoice templates and so on. These services can be provided with an appointment taken from before.
As our team, we do care for the environment and we use all the time best quality and branded ink's and papers and we avoid using fake or cheap papers for printing and copying, or any kind of materials.
We provide printing with different methods and papers, different ink technologies and finishings, such as Digital Printing, Laser Printing, Offset Printing, Ink Printing, Uv Printing, and many more.

Feel free to contact our sales via mail to
Copycenter@hmigift.com
or call us under
(+49) 0234 93 82 88 52

HMi is proud to say that we do have and provide special services such as Company Stamps, Picture Stamps, Golf Ball Stamps, Uv Stamps, Security Stamps, Signs, Door and window stickers, T-Shirt printing, Mug Printing, Shopping Bag printing, Lanyard Printing, Flyers, Business cards, Catalogs, Large Format Printing, Picture Printing, Architecture Signs-Plans and many more for same-day and express delivery.

*We accept Partnerships and Contracted orders and services, and we look forward to improving and develop our services, name and business.*